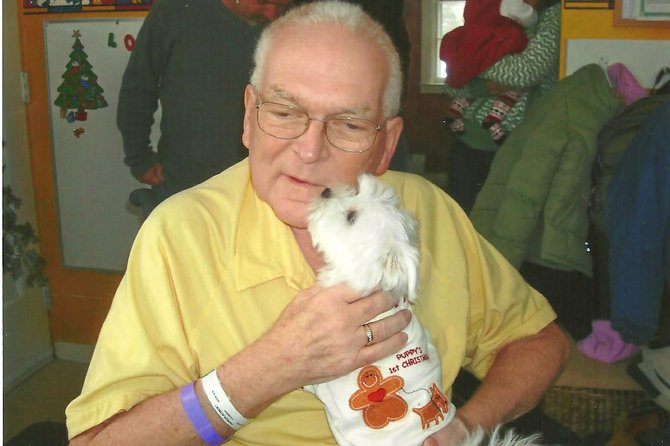 Rutland — The healing power of animals has long been documented. In an ancient Roman text, the philosopher Lucretius wrote about the bond between him and a small dog.
"We have a very special dog," said Bette Parker of Rutland. "She is a four-year-old registered Maltease, pure white, weighs 6¼ lbs and is as cute as a button. We named her 'Snowflake' because it was winter when she came to live with us on Dec. 31, 2007. She was one in a litter of four little girls born to our daughter's dog and was the smallest in the litter. My husband, Bob, decided she was the one for us."
The day after Snowflake's birth on Oct. 3, 2007, Bob was hospitalized. The trip to the hospital turned out to be an 87-day-long stay.
"Our daughter brought Snowflake up in a little black purse to visit Bob many times during his stay," according to Bette. "He was in the ICU for 34 days and the pup visited him there, as well as, when he progressed to other units. When Bob was on a ventilator, and didn't respond to any of us, our daughter would put Snowflake near his face and on his chest. The puppy would smell and lay right next to him and sleep. This stimulated Bob and helped the pup to bond with him."
According to Bette, whenever Bob was hospitalized after his first stay in the Rutland hospital, Snowflake would look for him.

"She would, and still does, run to the car door hoping he would/will get out. She sits at the bathroom door waiting for him to come out," Bette said. "He has had 20 surgeries and hospital stays since that initial 87 day visit."
Each time Snowflake is alone, she cries and looks for him, Bette added.

During his long stay in the hospital Bob was worried that Snowflake would not bond with him once he was brought home.

(Continued on Next Page)
Prev Next
Vote on this Story by clicking on the Icon