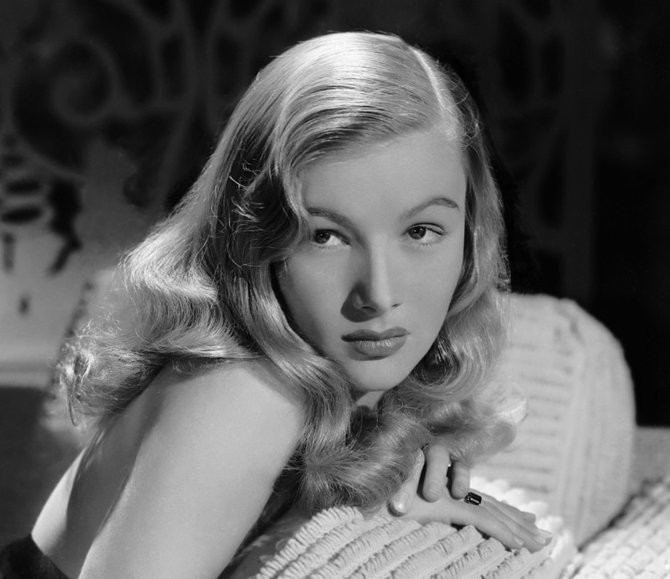 Middlebury — As a newborn baby, she was christened with a cumbersome name—Constance Frances Marie Ockelman; that was in the maternity ward of Brooklyn Hospital in New York City on the blustery morning of Nov. 14, 1922.
By the time Constance Frances Marie Ockelman achieved fame among Hollywood's most desired women during the 1940s, she had gone through an amazing personal transformation.
Troubled and schizophrenic, Constance Frances Marie morphed into the sexy, film noir actress Veronica Lake.
Sometimes known as the "peek-a-boo girl" for a partially hidden eye eclipsed by her long, natural blonde hair, Veronica Lake never left the childhood problems of Constance Frances Marie too far behind.
How Constance Frances Marie went from being a delicate newborn with a cumbersome name, to a silver-screen femme fatale and G.I. pinup queen, and then, at the very end of it all, to a corpse laid out in lavender in a Vermont funeral home—dead from renal failure and an hepatitis infection at the age of 50—is the crux of this story.
For ease of familiarity, we'll refer to Constance Frances Marie Ockelman as the world came to know her—as Veronica, Veronica Lake.
Veronica's sulky personality, golden tresses and cherry lips were what lured moviegoers to view her 28 movies, spanning the years 1939 to 1970. But during the opening years of the Great Depression, the actress's physical trademarks were still in the budding stage.
Long after the actress' death in Vermont, Hollywood stars Kim Basinger and Reese Witherspoon have tried to imitate Veronica's good looks and long hair. And so, in death, she continues to inspire others.
The animated adult-cartoon character Jessica Rabbit, shown in the 1988 movie "Who Framed Roger Rabbit", was a direct nod to Veronica Lake.
Even online, Veronica's sexy style lives on.
For example, hair-fashion expert Sarah Potempa—who has styled President Barak Obama's hair—has posted a do-it-yourself Internet guide to recreating the actress's classic hairdo.
(Continued on Next Page)
Prev Next
Vote on this Story by clicking on the Icon