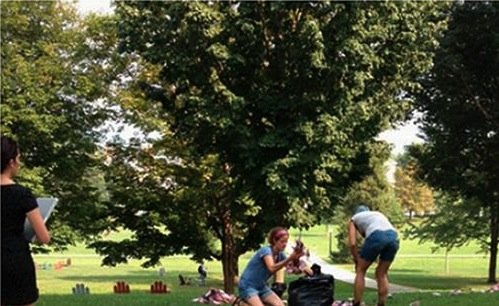 Middlebury — More than 200 colleges and high schools across the country proudly displayed nearly 3,000 American Flags on Sept. 11 as part of the 9/11: Never Forget Project. Middlebury College has been a participant for a decade and the event is well received in the community. This year was the exception.
Just before 3 p.m., students witnessed five individuals, including one student, ripping the flags that represent each life lost during the terrorist attacks from the ground. The project is a non-partisan event that occurs annually with the help of the college's Republicans and Democrats. The conservative group's president Ben Kinney watched the flags being uprooted, but was unsure of what was happening at first. The protestors told Kinny they were "confiscating" the flags to protest "America's Imperialism."
While the identity of the student was originally unknown, Middbeat.Org, a student-run website, released the name Anna Shireman- Grabowski, claiming that she had come forward to confirm her involvement in the protest and identifying herself in photographs taken at the memorial.
In the statement, Shireman-Grabowski says, "While I was not the only one engaged in this action and the decision was not solely mine, I am the one who will see you in the dining halls and in the classroom, and I want to take accountability for the hurt you may be feeling while clarifying the motivations for this action."
Shireman-Grabowski claims that the area where the memorial was located is an ancient Abenaki burial ground and should be treated with respect.
"My intention was not to cause pain, but to visibilize the necessity of honoring all human life and to help a friend heal from the violence of genocide that she carries with her on a daily basis as an indigenous person. While the American flags on the Middlebury hillside symbolize to some the loss of innocent lives in New York, to others they represent centuries of bloody conquest and mass murder," the statement given to Middbeat.org read. "Three thousand flags is a lot, but the campus is not big enough to hold a marker for every life sacrificed in the history of American conquest and colonialism."
(Continued on Next Page)
Prev Next
Vote on this Story by clicking on the Icon