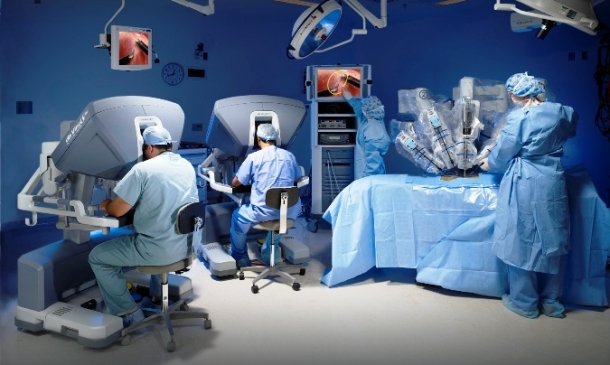 Middlebury — A recent report about robotic surgery in AARP Magazine sheds new light on a revolutionary technology which first emerged during the late 1990s. What isn't too well known is that Vermont's Fletcher Allen is one of the leading medical centers employing the amazing new technology.
Yes, not all of the news about robotic medicine has been good. AARP Magazine seemed to feed on the negative reports where some patients—not in Vermont—have been injured and died while being operated on by a robot. But unlike AARP, we'll be fair to the U.S. company developing this revolutionary technology; patients died while being operated on by human surgeons, too.
Considering the human versus machine face off in the operating room, even with a few reports of problems, the machine is a welcome new instrument in hospitals around the world.
However, when talking about robot surgery, the first thing is to do away with science-fictional notions of Frankenstein's Monster, Robby the Robot, and HAL hovering over hospital beds. Today's medical robots are not autonomous. They are large, complex instruments operated semi-romotely by skilled and caring human surgeons.
Today's surgical robots are dominated by the U.S. manufactured da Vinci Robotic-Assisted Surgery system.
The $2 million, multi-armed telefactored robot unit is built by Intuitive Surgical Corporation of California. It's especially nice to see U.S. high-tech innovation is alive and well.
Surgeons operate the da Vinci robot remotely—via a method known as telefactoring; they use it just like they would any other modern, medical instrument. In this case, steady and precise robotic microfingers become the extension of a skilled surgeon's hands.
Vermont's only surgical robot is a da Vinci Robotic-Assisted Surgery system at Fletcher Allen in Burlington.
According to the hospital, it's quickly becoming the standard of care for certain procedures.
"Robotic surgical units combine advanced robotic and computer technology. This allows a surgeon seated at a console a few feet from the patient to control robotic surgical instruments while viewing a three-dimensional image of the surgical field," according to Fletcher Allen.
(Continued on Next Page)
Prev Next
Vote on this Story by clicking on the Icon