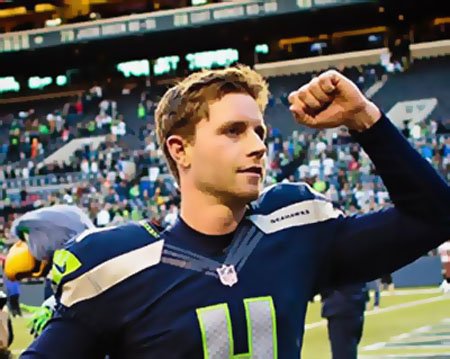 Middlebury — Seattle Seahawks' kicker and Super Bowl champion Steven Hauschka will visit his alma mater April 17-18.
The '07 Middlebury College graduate will be doing events both on and off campus over the two-day period. Hauschka will speak and be interviewed by Sports Illustrated senior writer Alex Wolff during a presentation on Thursday, April 17 at 7 p.m. in the McCullough Social Space on campus.
The event is open to Middlebury College I.D. holders only, with free tickets available at the box office on April 3. A public event will take place on Friday, April 18 at 7 p.m. in the auditorium at Middlebury Union High School with donations benefiting "Project Graduation". A meet and greet will follow.
Hauschka recently agreed to terms on a three-year contract with the Seattle Seahawks worth $9.15 million with $3.35 million guaranteed. Hauschka originally signed with Seattle in Sept. of 2011 after he was released by the Denver Broncos. He is now one of the top-10 highest-paid kickers in the NFL.
The 28-year-old Hauschka contributed a game-high 11 points to help lead his team to a 43-8 victory over the Denver Broncos in Super Bowl XLVIII on Feb. 2. He connected on a pair of field goals and was 5-5 on extra-point attempts.
In 2013, Hauschka made 33-35 field goals during the regular season, including a long of 53 yards, along with 44 PATs for 143 points. That point total was the fourth-highest mark in the NFL. In the playoffs, he was a perfect 8-8 in field goals and 9-9 on PATs for 33 points. He knocked through two game-winning field goals in overtime during the regular season. On September 29th against the Houston Texans, he booted a 45-yard attempt through the uprights followed a few weeks later with a 27-yard make on Nov. 3 against the Tampa Bay Buccaneers.
(Continued on Next Page)
Prev Next
Vote on this Story by clicking on the Icon